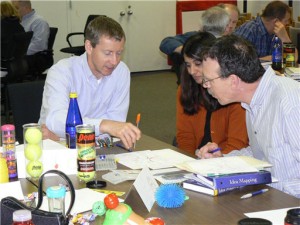 For those who qualify, Jamie Nast is offering a special discount on her popular 2-day workshop titled Idea Mapping: A Learning Workshop.
Purpose: To give corporate decision makers who are interested in bringing this workshop to their organization an opportunity to experience this class to determine it's value. Join leading businesses like BP, Mayo Clinic, Franklin Templeton, DTE Energy, L.L. Bean, BMC Software, ConocoPhillips, the U.S. Army, several LARGE automotive companies in southeastern Michigan, and many others who have offered this workshop to their employees.
Who Qualifies: Decision makers from Fortune 500 companies. In an effort to promote Michigan businesses, there is no restriction on company size for decision makers of Michigan businesses.
Special Fee: $150 due upon registration. The normal fee is $695, but this offer enables you to attend for the cost of your materials only. Travel, meals, and accommodations not included.
How to Apply: Go to http://ideamappingsuccess.com/abstract.cfm and familiarize yourself with the abstract and fees for potential workshops that would be held at your organization. Then contact Jamie at info@IdeaMappingSuccess.com to request a short application form. Put "Special Rate" in the subject line.
This is an opportunity for you to transform your organization. Don't miss it!
Bookmark us!
Copy HTML:
If you like this then please subscribe to the
RSS Feed
.