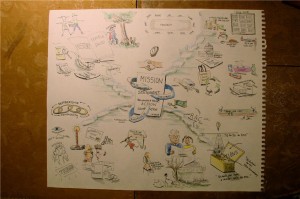 Liza Seiner (Certified Idea Mapping Instructor) created this idea map during a 2-hour temple committee meeting. She took black/white notes with some images throughout the meeting, but felt that they were not very well organized for the various themes that were being discussed. So she went back and put these together.
At this point, the map has not been sent to anyone, although it may be posted on the website for Temple and the committee. The purpose of the meeting was to brainstorm ideas for the committee's mission statement and to gather ideas for social action events that could take place over the next year. The temple is celebrating its 50th anniversary and Liza's husband had the idea of hosting/facilitating at least 50 activities in the anniversary year.
When she took the initial notes, they were tagged by who brought up the point. In the final version she left that out, so as not to highlight that aspect. Her husband has the original
notes and the map and is using it to supplement his notes. If I can get a copy of the original map, I'll put it up so that you can compare the draft to the final version.
Bookmark us!
Copy HTML:
If you like this then please subscribe to the
RSS Feed
.