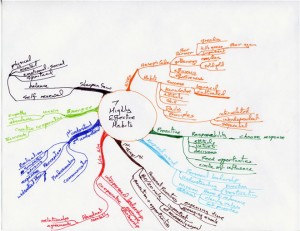 I'm starting a series of idea maps that were created by participants of my workshop titled, "Idea Mapping: A Learning Workshop". These professionals each create a map from an overview of Covey's "7 Habits of Highly Effective People". Each map ends up looking quite different, has different main branches, different levels of detail, and varied amounts and types of images. In a recent workshop during the debrief of this activity, I had someone ask, "Did we read the same article?" I thought that comment was profound and that there was a lesson and a hint in its content.
The hint is that despite reading the same information or hearing the same speech or being part of the same project, each person has unique ideas and associations which make their maps one-of-a-kind. This is the first map in the "Did we read the same article?" series. The lead idea map comes from Alan Wall of ACH. Enjoy!
P.S. The Idea Mapping Squidoo Lens is ranked #7 in Business and #148 Overall today!
Bookmark us!
Copy HTML:
If you like this then please subscribe to the
RSS Feed
.