19Dec2007
Filed under:
Podcasts
Author: Jamie Nast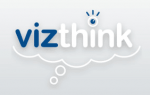 January 27-29, 2008 I will be a facilitator at a new conference in San Francisco called VizThink. In one of the sessions, I will be co-facilitating with Susi Watson, the Creative Director of For Balance, LLC. Yesterday we did a 30-minute podcast with Tom Crawford (VizThink CEO) that is now available for you to hear.
If you are attending VizThink, make sure you put the "Mapping a Great 2008" session on your agenda for January 29th from 11:00am – 12:30pm. You will get a crash course in Idea Mapping and see Mindjet's MindManager software in action as Susi captures participants' ideas live!
Bookmark us!
Copy HTML:
If you like this then please subscribe to the
RSS Feed
.