30Jun2008
Filed under:
Idea Mapping Workshops
Author: Jamie Nast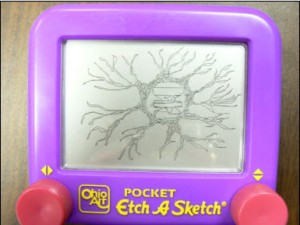 This has been a crazy month, so I just wanted to take a few moments to apologize for not having time to post more frequently. The month started out in Ft. Collins, Colorado where I taught a 2-day workshop for the Larimer County Government. The following week was back home for a 2-day class at ACH. The third week of June took my to Toronto where I taught for the Ontario Teachers Pension Plan. The month wrapped up at Boeing for a 2-day workshop with 35 participants. In the days and weeks to come I'll be sharing some idea maps and portraits from each of these events.
The above Etch A Sketch creation was done by Luke Meier from Boeing. It is the most elaborate and unusual Etch A Sketch that has ever been created in one of my workshops. It is an idea map and the central image is the graphic that Stephen Covey uses in his 7-Habits book. I just had to share this.
During that same Boeing workshop, I had a participant create what is likely to be the best portrait drawing in my history of teaching as well. She didn't have it completed yet, but when she does I'll share it.
Bookmark us!
Copy HTML:
If you like this then please subscribe to the
RSS Feed
.