22Jul2008
Filed under:
Idea Mapping Example
,
Webinars
Author: Jamie Nast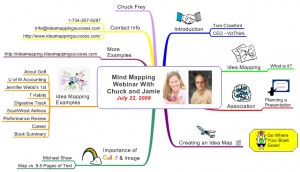 I'm SO sorry about the technical problems on today's webinar. This idea map was used to drive my piece of the program. Double click on the map you see a clearer view. You can listen to the recording here.
The following links and maps are for the idea maps that I couldn't share because I could not connect to the meeting.
Jennifer Webb's U of M Accounting Map
Paul Shorock's "About Golf" Map
Mike Kline's maps on Career Possibilities and Performance Review
Read about the following map by Beth Schultz in my Idea Mapping book.
Bookmark us!
Copy HTML:
If you like this then please subscribe to the
RSS Feed
.