15Oct2008
Filed under:
Idea Mapping Example
,
Mind Mapping Examples
Author: Jamie Nast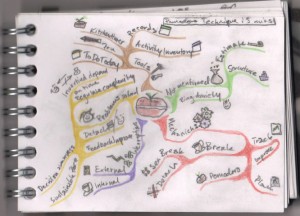 Sorry I've been quiet for the past 8 days. Between packing materials for 5 Idea Mapping Workshops in three countries and a large amount of prep work to deliver a webinar to 460 Boeing PMPs yesterday, I haven't had a moment until now. So today I'm going to introduce you to a new contributor.
Meet Staffan Noteberg, a professional software developer since 1992 from Sweden. He teaches a methodology called the Pomodoro Technique that makes problem-solving and managing daily activities much more efficient. This map summarizes the technique. I'll share more of Staffan's maps in future postings.
Bookmark us!
Copy HTML:
If you like this then please subscribe to the
RSS Feed
.