Yesterday I returned from teaching an Idea Mapping Workshop at Ontario Teachers' Pension Plan (OTPP) in Toronto. One of the participants was Dan Houle who is the VP of Investment Operations. He has been and avid mind mapper and user of MindManager since 2005. He estimates that he has easily created over 650 maps using Mindjet's software and he shared several of those with the class.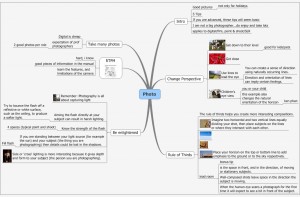 This is the first of his examples that I will share until we make sure any proprietary information is removed from his others. For Dan's fellow photographers, I think you will enjoy his tips. As usual, email me if you want to have this idea map in the original MindManager format. jamie(at)ideamappingsuccess(dot)com
Bookmark us!
Copy HTML:
If you like this then please subscribe to the
RSS Feed
.