15Jul2009
Filed under:
Idea Mapping Workshops
,
Portrait Drawings
Author: Jamie Nast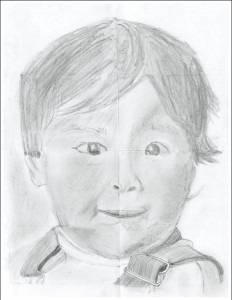 In April of 2009 I taught two Idea Mapping Workshops at Boeing. A few days ago I received an email from Gordon Kranick with this portrait attached. Here was Gordon's message to me:
"Tired aerospace engineer finishes art project for rejuvenation 2.5 months later!  Your class was on 4/28 and I found the half finished sketch this past Sunday while at my desk at work, working on a term paper for school. So a 2.5 month delay is a good note to encourage your students to keep the dream alive and don't lose their sketches. Finishing my sketching got me sidetracked and I took a peek at local artist http://www.jenniferbowman.com. She does classes in the area and I thought it would be fun to go to a class with my son."
Gordon – You did a fabulous job on this sketch and how cool would it be to take a class with your son! Congrats! To learn more about the purpose of this activity see the first portrait drawing that went up on this blog in June 2007.
Bookmark us!
Copy HTML:
If you like this then please subscribe to the
RSS Feed
.