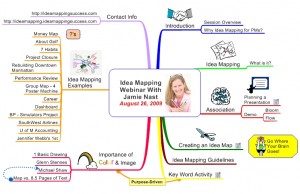 This Idea Map is the agenda of the webinar that I will be delivering today for the 1,000 attendees of the RMC Project Management Bookstore monthly webinar. Although today's event is full, you can register to hear the archived version at the bookstore.
Those who participate in this webinar can receive a 10% rebate on any of my three 2009 open public Idea Mapping Workshops. Just email me after you've registered at info(at)ideamappingsuccess(dot)com. In addition, Mindjet is offering a nice discount on 4 of their products after seeing the webinar.  Review the webinar for those details.
Bookmark us!
Copy HTML:
If you like this then please subscribe to the
RSS Feed
.