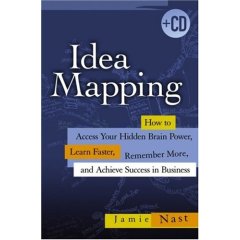 I'm fascinated by statistics and trends especially as it pertains to how social networking impacts blog and website statistics. I'm also intrigued by trends in book sales. Some books have a life for a year or so and then die out. Others become classics. Here's what I'm seeing happen to my Idea Mapping Book …
As a first time author, first time web owner, and with little participation in social networks, most of my book sales beginning September of 2006 (and October in Europe) came from the fact that it was a new book, it was different, it contained a trial version of software from Mindjet, and that John Wiley & Sons is a well-known publisher that has been in the business for over 200 years.
I know Amazon rankings don't tell the full story of book sales by any means, but it is about the only consistent indicator I can follow. The end of the first year and into the second the rankings were all over the map. One day it would be ranked 10,000 and shortly after that it could be over 200,000. Year three has been the most fascinating of all. It has been like a crescendo. In 2008 and the first half of 2009 I gained a huge amount of clients (Boeing, Larimer County Government, Ontario Teachers Pension Plan, PMI New Jersey Chapter, Canada Pension Plan Investment Board, University of Warsaw in Poland, etc,) — all of which found such great value in the 2-day workshop that I even had repeat business in this difficult economy. The rankings have actually increased steadily and are much less volatile.
Today the ranking in Canada is 2,952 and it has been pretty good there for a while now. Even France and Japan (the Japanese translation) rankings have gotten better over the last several months. I think in this season of trying to get more done with less, Idea Mapping is a critical tool for success. In addition corporations are realizing that visual thinking, planning and communication is much more effective than the old linear way of doing business.
So to summarize, the Idea Mapping Book is like a fine wine that is getting better with age!
Bookmark us!
Copy HTML:
If you like this then please subscribe to the
RSS Feed
.