17Sep2009
Filed under:
Idea Mapping Workshops
,
Webinars
Author: Jamie Nast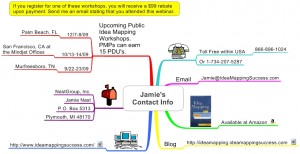 Dear All …
Sorry I went offline on the last slide. I think it was a FireFox issue so note to self: Don't use FireFox any more for webinars. Above is the final slide with my contact info. Please feel free to contact me and I would love to receive any of the maps you created during our time together or any future ones. They don't have to be complete or pretty! Thanks for joining me today.
Bookmark us!
Copy HTML:
If you like this then please subscribe to the
RSS Feed
.