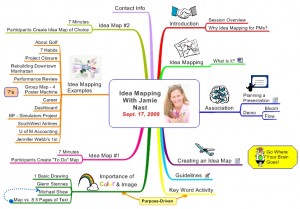 On September 17, 2009 I provided a 90-minute webinar for the VizThinkU community. This is the longest and most activity-driven webinar I've ever done to date. This idea map is the overview of the session. If you listen to this webinar, be prepared with markers or pen and paper so that you can participate in the 7 activities packed into this dynamic learning session.
If you decide after attending this webinar that you would like to join me December 7-8, 2009 in Palm Beach, FL for the full 2-day version of the Idea Mapping Workshop (sometimes called Mind Mapping Workshop), I will rebate you the $99 cost of this webinar when you register for the course.
Bookmark us!
Copy HTML:
If you like this then please subscribe to the
RSS Feed
.