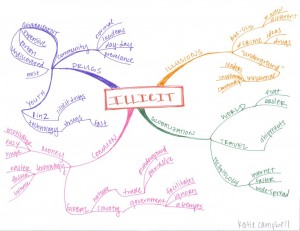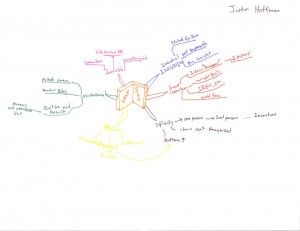 These Idea Maps are the 11th and 12th examples in this year's experiment following students at Luther College in Decorah, Iowa. The October 23, 2008 posting first introduced this series and the October 28, 2009 post puts this experiment in context. Read those postings for background.
Today's idea mapping examples come from students Katie Campbell (top) and Justin Hoffman who provided their reflections on the books Illicit by Moises Naim and Group Genius by Keith Sawyer in the form of an Idea Map.
Katie's Initial Comments About Idea Mapping: "Idea Mapping was fairly easy for me to learn. I really like the concept of visually representing ideas; although, I think that it is only very useful in certain situations. For example, when I am listening to someone speak or I am taking class notes, I would much rather create a list or an organized, linear form of notes. But when I am brainstorming, summarizing, or trying to condense a large concept, idea mapping worked great."
Thank you to Justin and Katie for sharing their examples.

Bookmark us!
Copy HTML:
If you like this then please subscribe to the
RSS Feed
.