5Feb2010
Filed under:
Messages from Jamie
Author: Jamie Nast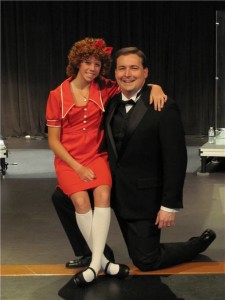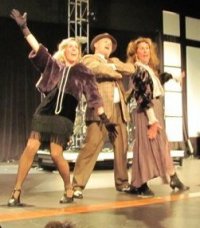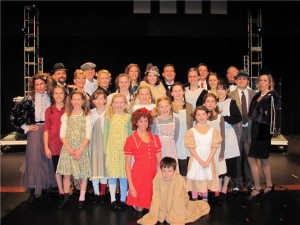 In 2009 Oak Pointe Church (OPC) produced Godspell. The proceeds went to Active Faith which is a community service organization that works to improve the quality of life for low-income households. The show was such a success that the directors decided to make this an annual event and call us the Oak Pointe Players.
The 2010 production is "Annie", and I am privileged to be part of the cast again this year. This time the proceeds will go to Living Hope International (LHI). LHI is a Christian non-profit organization in Novi, Michigan building orphanages in Zambia, Africa.
Show dates and times are March 5, 2010 at 7:30pm; March 6, 2010 at 1:30pm and 7:30pm. Cost is $10 per person. Tickets are now available by calling 248.912.0043. Put these dates on your calendar!
Hope you enjoy a sneak peek at several photos. The top photo features Annie & Daddy Warbucks, next  are the orphans, third shot is Lilly, Rooster, and Miss Hannigan (me…can you believe how hidious I look?), Miss Hannigan and brother Rooster Hannigan (played by fellow Purdue Boilermaker Mike Franklin), and finally the full cast photo. Even our own Channel 4 Chuck Gaidica has a role in the show along with his daughter who plays Annie.
The entire cast of Oak Pointe Players and musicians are extremely gifted. Some of the girls playing the orphans are only 6 years old, and you will be amazed at their talent.
Bookmark us!
Copy HTML:
If you like this then please subscribe to the
RSS Feed
.