25Feb2010
Filed under:
Idea Mapping Workshops
Author: Jamie Nast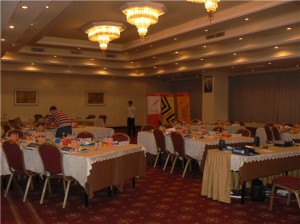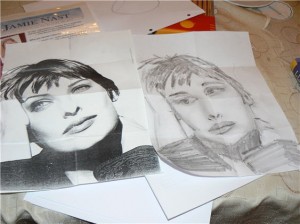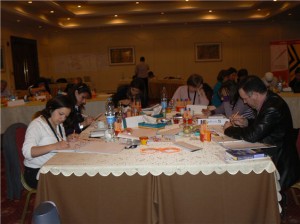 On February 16, 2010 I shared the first posting about the first group of professionals to attend the Idea Mapping Workshop in the Middle East. You can visit that posting to find out the various companies that were represented. This event was held in Amman, Jordan and organized by Forward Training and Consulting LLC. Today I thought I would share a few more photos from the training.
The top photo shows us in the process of setting up the workshop. There are so many details and materials for this event and it was the first time for Forward Training to be involved in setting up that I think it took 4 of us nearly 3.5 hours to get it just like we wanted it.
The next picture shows one of the participants' portrait drawings from an activity they do in the workshop. Next is one of the groups working on their Idea Maps, followed by a picture of Cynthia and Aalaa' sharing their Idea Maps. The final picture shows a packed room of participants sharing, laughing, and learning.
The workshop was so successful that we have already scheduled the next training for May 9-10, 2010 in Amman. We don't have the new flyer updated yet, but you can see all the same details here.  If you want to register now you can call +(962-6) 4611277 or send an email to Idea@FWDTC.com. We are limited to 42 seats.
Bookmark us!
Copy HTML:
If you like this then please subscribe to the
RSS Feed
.