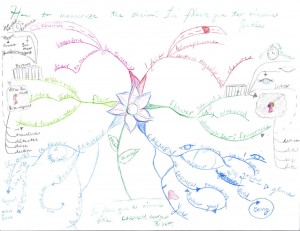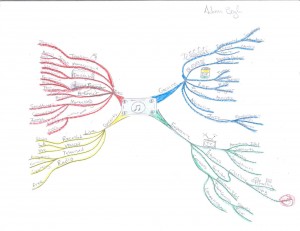 This semester's Idea Mapping experiment at Luther College has an exciting new twist. The April 15, 2010 posting concluded the sharing of the idea maps created by Tim Schweizer's fall 2009 students where he had them use idea mapping to summarize a book. This time around the assignment was completely different.
Dr. Schweizer spent one 60-minute class teaching them the concepts and guidelines of Idea Mapping. They read chapters 2-5 of the Idea Mapping book, and then spent a second 60-minute class practicing and applying their new skills.
Their assignment was to create an idea map that would be relevant to them either personally, professionally, or academically. He gave them several topic suggestions and allowed for either hand drawn or computer generated maps.
Idea Maps #235 & #236 – above you will find two very different and unusual maps. The top one was created by Nick Sanches to help him memorize the aria "La Fleur Que Tu M'avais Jetee" from Carmen. The second one is from Adam Bogh. This map represents time, music, and money. Thank you both for sharing these!
Bookmark us!
Copy HTML:
If you like this then please subscribe to the
RSS Feed
.