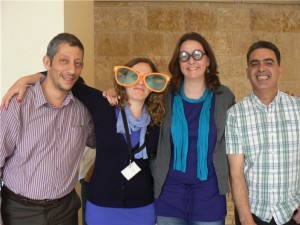 The first Idea Mapping Workshop held in Jordan was in February 2010.  It was so successful that I went back in May for round two. Here are a few more photos from that second class.
The second day of class was Lili Krause's birthday. Her co-workers brought in a cake and gave her this birthday card shown on the left in the form of an Idea Map. Already putting their new skills to work creatively!
The first photo features Lili's co-workers Iyad Khaldi, (Lili), Anne Venus, and Safwan Nazer from GTZ.
This workshop was sponsored by Safa Hijazeen and his Forward Training team. If you want to see a fabulous 3-minute YouTube video featuring participants from the first class in Jordan, click here and then play the video in the lower left part of the screen.
Registration is now open for the next Idea Mapping Workshop in Amman, Jordan which will be held October 10-11, 2010.  Contact Forward Training if you have any questions.
Remember: If you are a project manager and have either considered taking the PMP exam, are in the process of studying for it, have passed the exam, or gave up on the whole process — this is your chance to share your experience in this survey which takes less than 10 minutes. As a "thank you" please enter the drawing for free Amazon gift cards or an autographed copy of Idea Mapping by Jamie Nast. Full story here.
Bookmark us!
Copy HTML:
If you like this then please subscribe to the
RSS Feed
.