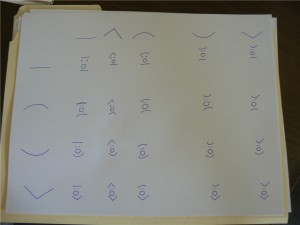 <:o)  ):ol  I've never seen anything like this before — let me explain. Every year I teach an Idea Mapping Workshop in December in Palm Beach, Florida. Vanda North joins us if she's in town, previously certified instructors often join in the fun and of course we always get to meet new participants and learn from them as well. For whatever reason I did not finish sharing about last December's Palm Beach events, so this is overdue and will take a few postings.
One of the more interesting tidbits of knowledge came from one of the new participants, Tracey Lyon. During a portion of the workshop I teach a basic drawing lesson so that they can more easily add images to their Idea Maps. Tracey drew this matrix for us of face emotions based on keyboard keystrokes. We all thought it was brilliant! To see Tracey's Idea Map Christmas card click here.
Join us for the upcoming public Idea Mapping Workshops August 11-12 in Livonia, Michigan or August 19-20 in Montreal, Canada or December 6-7, 2010 in Palm Beach, Florida.
Bookmark us!
Copy HTML:
If you like this then please subscribe to the
RSS Feed
.