26Oct2010
Filed under:
Books
,
Idea Map
Author: Jamie Nast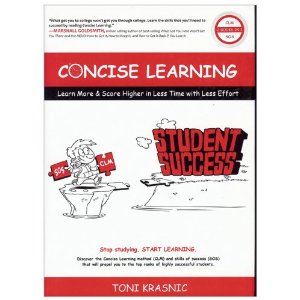 If you are a student or have a student that wants to strengthen their learning skills, Concise Learning: Learn More & Score Higher in Less Time with Less Effort is for you. This book will help you learn more and score higher on tests in less time and with less effort.
Learning how to learn has historically been one of the most overlooked skills not taught to students. As a result learning continues to be a challenge into adulthood. I see this all the time with the participants of my Idea Mapping Workshops. Even very successful engineers, leaders, and IT professionals have rarely been taught strong learning techniques – rather they have been TOLD to learn and left to figure the rest out on their own.
The few learning tips students and adults are provided are often boring or nothing more than rote memorization. The stress and pressure this creates can be replaced with success by applying Toni Krasnic's Concise Learning Method. This learning method is specifically designed for students and combines a 5-phase process (Preview, Participate, Process, Practice, and Produce) with Idea Mapping (Toni calls this visual mapping).
You can order the book at www.conciselearning.com. For additional information see Toni's blog at http://conciselearning.tumblr.com/.
Bookmark us!
Copy HTML:
If you like this then please subscribe to the
RSS Feed
.