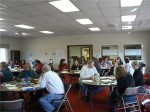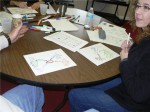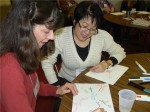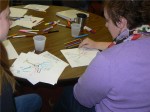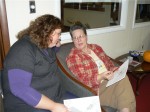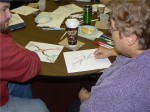 I have had the privilege to teach an annual Idea Mapping Workshop for the Saline Leadership Institute (SLI) for 13 years now.  Regardless of the industry these leaders come from, the Idea Mapping tool continues to help leaders return to their businesses and lives more productive, more creative and more organized.
One of the challenges for leaders at every level of the organization is how they can get their arms around an overwhelming amount of information, make sense out of it, and then take the appropriate actions. Professionals are often immobilized at the thought of tackling major tasks.  An idea map can become an image that houses all the necessary data on one piece of paper. This enables the brain to see connections between ideas that would not be apparent in a linear document.
Top top photo shows the entire class and the rest show participants sharing their Idea Maps with each other.
Saline Leadership Institute was founded in 1998 in Saline, Michigan by Gretchen Driskell, Bill Lavery and Dan Stotz, … read more about SLI.
Bookmark us!
Copy HTML:
If you like this then please subscribe to the
RSS Feed
.