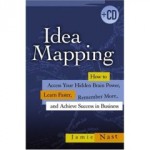 Idea Mapping: How to Access Your Hidden Brain Power, Learn Faster, Remember More,  and Achieve Success in Business was published in September 2006 by John Wiley & Sons and written by me, Jamie Nast.
Since the initial publication it has been translated into Serbian, Bulgarian, Japanese, Russian and Korean. It is available in the Kindle version in English and Russian. We are currently looking into a possible Portuguese translation.
Over the last 4 years my 2-day Idea Mapping Workshop has been widely accepted in many new parts of the world including Abu Dhabi, Canada, Jordan and Poland. Although I've been teaching this workshop since 1992 new clients have continued to have a strong demand for the content of this workshop. Some of those clients include:
Takreer (Abu Dhabi Oil Company)
Boeing
Canada Pension Plan Investment Board
EUROREG (An Academy of Evaluation sponsored by the University of Warsaw in Poland)
Ontario Teachers Pension Plan
Dow Chemical
VizThink
PMI New Jersey Chapter
Larimer County Government
etc.
Book Reviews & Testimonials (See more on Amazon)
I love this book. It has helped me with my to do lists, teaching classes, taking notes on lectures and with helping my children to study. In my teaching; it has allowed me to keep my notes on one page and then to see the transitions more clearly. When questions are asked I can quickly find my place and give precise answers without flipping through pages of notes. My oldest daughter was struggling with science, but with idea mapping techniques she is able to use her creativeness to map out her study notes and has had more success with her testing. When taking notes on a lecture, I find that I can remember the speaker's points much better than the traditional outline method because it's mapped out in pictures and words.
I really enjoyed the book because the author has the reader participate in each chapter, so by the end of the book you are able to make good idea maps and rarely have to review the book.
What I have learned is a life enhancing skill that I use at work and my personal life.
The book is great; if you participate you will learn. I use idea mapping every day and I believe I am even more creative because of it.
I've been impressed by Jamie Nast and her philosophy of Idea Mapping. I especially like the concept that you can put a complex idea on one page, and Jamie is running with it. I don't know about you, but I'd rather see a business plan on one gorgeous map than 50 droning pages. I'm also happy that Jamie considers software a legitimate venue for mapping (I especially like MindManager, which Jamie endorses at her website). A resource idea mappers at all levels need to checkout.
Jamie Nast's work in 

Idea Mapping

enables those with creative minds to clearly lay out their thinking process and those who are more process-minded to become creative.  If your organization is looking for a pragmatic, step-by-step guide to this valuable tool of Idea Mapping, this is it.
Chris Brown – Executive Vice President,
DTE Energy Resources, Ann Arbor, Michigan
Bring clearer thinking, better organization, improve productivity, a stronger memory and easier learning into your life. Read Idea Mapping today.
Bookmark us!
Copy HTML:
If you like this then please subscribe to the
RSS Feed
.