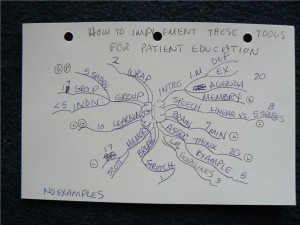 I met Siri Zimmerman when she was 8 years old. She was the daughter of one of my co-workers at EDS, Marty Zimmerman, who is now the author of three books. Siri (now 25) and I met for coffee this past weekend to discuss the possibility of me speaking at the upcoming conference she is planning  for the Diabetes Association of Greater Cleveland March 24, 2011.
Siri told me about the challenges of the nurses and other medical practitioners who would be attending so that I could tailor my 2-hour workshop to provide tools that would meet their specific needs. Next we got out paper and pen to create an Idea Map of the workshop content. Participants will be taught idea mapping and other practical learning and memory skills that they can then use in their job to improve patient education.
In 2 1/2 hours we were able to catch up on 10-15 years of history and plan the entire content for the conference. The Idea Map wasn't anything fancy, but it did the trick. Next I came home and put a detailed version into MindManager so that I could turn it into a jpg and she could then share the plan with the rest of her colleagues. I'll share that version in the next posting.
Bookmark us!
Copy HTML:
If you like this then please subscribe to the
RSS Feed
.