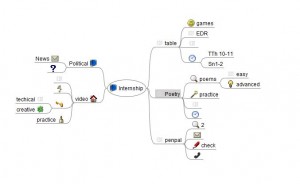 The very first posting about this experiment with Luther College students was on October 23, 2009. (You can get some background there.) Dr. Tim Schweizer led the experiment.  From this date through the April 15, 2010 posting you will find many examples from this first group.
For the next semester Dr. Schweizer change the assignment a bit. I started sharing those examples beginning with the May 19, 2010 posting. Again more idea maps were posted through the August 24, 2010 posting.
So here we go again with the first example from the Winter semester 2011 Luther College students. For today's example I'll let Alla Makoveeva tell you about it in her own words:
"I find Idea Mapping extremely useful to catch up all the thoughts that we have in mind and to structure them without concentrating on the outline.  After taking some tests in Dr. Tim Schweizer course, I understood that I comprehend information only visually through images and written text for me is a waste of paper. Being introduced to your book (Idea Mapping), I started using idea maps in my daily life: while listening to the lecture, planning my week schedule or reanalyzing current activities.
This maps presents my current internship on the faculty of Foreign Languages in Luther College, Decorah, IA. Specializing in Japanese, English and Spanish and being a native speaker of Russian, I am assisting Professor Laurie Iudin-Nelson with classes of Russian 1,2 and Political Russian.
The main brunches symbolize main activities that I'm responsible for within the semester: Russian table, poetry evening, pen-pal  project, video about Luther college and Political  Russian course.
I tried to use as many symbols as possible but as it was my first time using the program Free Mind I was not very creative with them and used the standard ones.
Branch "table" stands for Russian table where I need to prepare games, practice every day Russian and check the attendance. The time for these meetings is Thursday  and Tuesday 10am-11am and Saturday 1pm-2pm.
"Poetry" branch reminds me that we are going to organize a poetry evening in March. I need to select easy and  more advanced poems for it, practice it with students and schedule the date and the time.
For the "pen-pal" project I need to find more participants from Russia for the 2nd course, ask the students to email me their letters beforehand so I can check them. I also need to call Russia to talk to their English professor.
We have and idea to create "video" about Luther college in Russian. Students will write short texts, which I will practice with them. We need to find good music to some slides and "key people", who are creative and can work with cameras.
The last but not the least part of my internship is teaching political Russian to the 3d year students, where we read news and discuss relevant international questions.
The whole bunch of words mentioned above was replaced by only one idea map. I find this technique extremely helpful for economizing time and stimulating the mind for creative thinking.
I also have an idea that maybe such maps can help me in learning characters. I haven't found the time to try yet, but I'm sure I will in the nearest future. And as a linguist, I have a firm sense that it could work."
Alla – Many thanks for your contribution!
Bookmark us!
Copy HTML:
If you like this then please subscribe to the
RSS Feed
.