30Apr2011
Filed under:
Idea Mapping Example
Author: Jamie Nast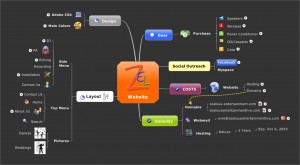 Meet Evin Lantz who founded ZEL (Zealous Entertainment Live!) in 2007 before he even had a drivers license. Evin is a sophomore at Luther College and a student of the well-known Dr. Tim Schweizer who started the Idea Mapping experiment with his students in the fall of 2009. He is majoring in Business Management and minoring in Information Systems and Theatre (sound/lights).
Evin's Idea Mapping Example is the framework for the ZEL website that will launch July 1, 2011. He developed this website design using MindManager by Mindjet. Proprietary information has been hidden. This idea map had to be collapsed because of the large amount of detail. If you would like a full version (minus proprietary info) please email me.
ZEL started out primarily as a mobile recording studio — recording local school concerts and community events. That then transformed into running full sound systems for the events. Although ZEL operates during the school year, it is in full swing end of May through August. Based in Rochester, MN, ZEL is a team of entertainment technicians specializing in audio, video, and lighting sales and installations for homes and professional venues. They also offer a mobile DJ or PA service and a video/audio editing services. In general they service a 120-mile radius of Rochester, MN.
As many of us have experienced there are a lot of amateur mobile DJ's out there that buy the cheapest gear they can get. Those folks don't last long in this kind of business. At Zealous Entertainment LIVE, they use only high quality equipment and always strive for the highest quality outcomes possible in whatever they are doing. Evin has every intention to keep this business alive as long as he is, and hopes to grow ZEL enough to never be faced with a job that is too big!
You can also find ZEL on Facebook.
For more background information on Dr. Schweizer's experiments see the October 23, 2009 posting. For the many examples provided by Luther College students, search this blog on "Luther College."
Bookmark us!
Copy HTML:
If you like this then please subscribe to the
RSS Feed
.