22Nov2011
Filed under:
Idea Mapping Example
,
Mind Mapping Examples
Author: Jamie Nast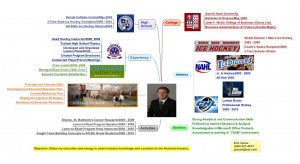 I've featured a few idea maps in this blog that are resumes. The first one was Carl Giosa's and this one is his son's — Eric Giosa. In a competitive job market you need your resume to stand out over others vying for the same position.  I assure you that using an idea map will get someone's attention. If you're hesitant, I suggest a 2-sided resume with the linear resume on one side and the idea map resume on the other.
I recently connected with Jacob Share, the creator of JobMob — a creative and sometimes funny blog about job search.  He recently compiled 23 examples of idea map and mind map resumes. Maybe some of these resumes will inspire you to make your own a bit more interesting!
If you want your resume to stand out from the crowd, we at NastGroup, Inc. can provide you with this service along with continued updates. Prices start at $199. Contact us to get started.
Bookmark us!
Copy HTML:
If you like this then please subscribe to the
RSS Feed
.