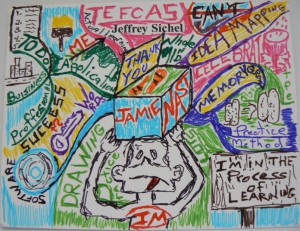 Jeff Sichel is a National Sales Manager with Panasonic and was one of the participants in the March 14-15, 2012 Idea Mapping Workshop. Yesterday I stopped by the post office to get the mail in my P.O. Box and this surprise was waiting for me.
Now let me put this in perspective. Jeff's previous mapping experience was creating detailed maps using software. The idea map he created as a thank you for the workshop is completely hand-drawn. Only someone who has taken the class can appreciate the creativity, detail and large amount of information summarized on this piece of paper the size of a postcard.
Jeff — thanks for letting me share this. Great work!
Bookmark us!
Copy HTML:
If you like this then please subscribe to the
RSS Feed
.