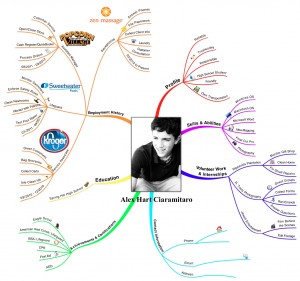 During my recent public Idea Mapping Workshop in Livonia, MI there was a flurry of interest in using idea mapping software to create resumes. This was inspired by the examples that some of the participants had previously seen on this blog (see Carl's Giosa's resume along with Eric Giosa's and Kevin Nast's).
Janet Hart was one of those who decided to turn their resume into an idea map. Today I'm featuring her son's resume that was created using MyThoughts on the MAC. His name is Alex Ciaramitaro and he's a senior in high school. I was quite impressed that he took the initiative during the evening between days one and two of the workshop to use this application as an opportunity to learn this software package. Thank you Alex for sharing your idea map resume.
If you want your resume to stand out from the crowd, we at NastGroup, Inc. can provide you with this service along with continued updates. Prices start at $199. Contact us to get started.
Bookmark us!
Copy HTML:
If you like this then please subscribe to the
RSS Feed
.