1May2012
Filed under:
Books
Author: Jamie Nast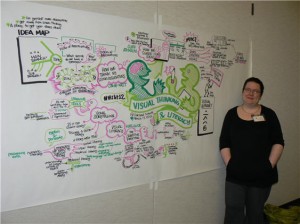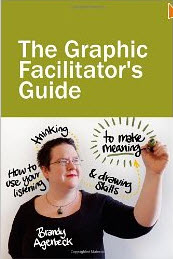 This visual creation was done by Brandy Agerbeck and reflects the content shared by the three keynote speakers at the Visual Literacy Conference (VizLit) held on March 17, 2012. The speakers were Karl Gude, Cliff Atkinson, and myself.
I first met Brandy in January 2008 at the first VizThink Conference in San Francisco. We reconnected in March and I was amazed to watch her at work on this graphic. Brandy has a new book that was just released titled The Graphic Facilitator's Guide available at Amazon. If you've ever wanted to learn the art of graphic facilitation, you may as well learn from the best.
Once I have my copy in hand and have read it, I'll report on this again! Brandy – everyone is going to want to know what kind of markers you are using. Once this post is up I'll have you tell us the brand. To learn more visit Brandy's website at http://www.graphicfacilitator.com.
Bookmark us!
Copy HTML:
If you like this then please subscribe to the
RSS Feed
.