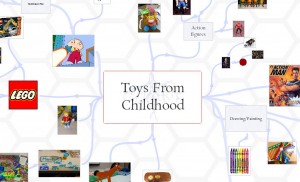 Visual Root is a new website that enables visitors to create massive online collaborative Mind Maps and Idea Maps. Created by Victor Palmer and James Patton Visual Root is different from the MANY commercial (and free) mind mapping programs out there.  Victor states:
"The idea is to take a user-initiated thought tree (I never know the correct term to use here btw), make it openly web accessible, allow hundreds or even thousands of people to freely contribute to it – and to make the entire experience simple and enjoyable for the average Internet user.  It's about opening collaborative mind-mapping up to the average person and making the process as engaging as posting to Facebook or writing a Tweet."
So I began building a root for myself as an experiment. I kept it fun and light-hearted and titled the map "Toys From Childhood".  One of the enjoyable aspects of my Idea Mapping Workshops is the environment — filled with toys, color, books, idea maps, markers, music and bubble gum! Surprisingly many others have added their favorite toys to this root. You can't see the entire map in this image, but you can from Visual Root. I invite you to play along with us.
Bookmark us!
Copy HTML:
If you like this then please subscribe to the
RSS Feed
.