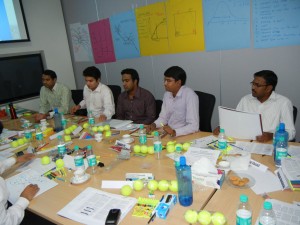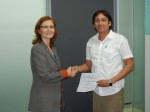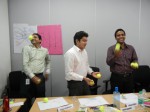 In March of 2012, Larisa Brigevich, Director of the Global Research Library at Franklin Templeton Investments, conducted a two-day Idea Mapping workshop in Mumbai, India for twelve members of her global team.  Hear Larisa's team members share how learning idea mapping skills helped them to be more successful at work and in personal life. These testimonials came nearly 5 months after Larisa's workshop.
"For me and my team, Idea Mapping is integrated in almost everything we do. From a collaborative meeting map to project planning and status reports to brainstorming ideas, we use idea maps daily.  Strong collaboration is a quintessential requirement for success in a global team environment, and maps enable seamless, real time collaboration. The Idea Mapping workshop influenced me in more than one way. First and foremost, it exposed the hidden artist in me, and I have learned how associating logic in a flow can get me an answer more quickly than scouting in abstract form. Artistic and creative way of work brings success, and the workshop helped me to learn systematic organization of facts and items with some valuable tips on memory retention and explore my brain power."–Safique Hazarika
"Idea Mapping workshop has indeed been a great learning experience for me so far. I never knew I could organize my work and time in such a creative and colorful way. I have become much efficient in scheduling and prioritizing my tasks. It has helped me save a lot of time and now I can also pursue my other goals. I start my day at work with an Idea Map! Preparing study notes looked very hectic and dull task before I learnt idea mapping. But after the workshop I enjoy taking the notes in a colorful manner. I have also taught it to my younger sister and she loved it! In fact, she has also taught the Idea Mapping method to her friends! It has been four and half months since the workshop. But the ideas and techniques are still fresh in all our minds. The workshop has certainly sharpened our memories and analytical skills.  —Bhakti Bhatia
This training has helped me a lot in my work especially when I am working on multiple things. Since after the training, I have been drawing maps of my daily/weekly tasks. It helps me prioritize and organize the things-to-do.  Before my last vacation, I created a map on the trip – where to go, transport, sight-seeing, budget and it not only helped, my friends got impressed with it too!  I think Idea Mapping is not just a planning tool; it is a mind-opener. It acts as a scanner that shows what a brain is capable of, how far it can go, how creative one can be and above all, it teaches the value and importance of "CONNECTIONS". Life is all about connections – the more you have, the more colorful is the canvas of life. I consider myself fortunate to learn this tool.–  Vaibhav  Rankhambe
Congratulations Larisa on helping to change lives for the better!
Bookmark us!
Copy HTML:
If you like this then please subscribe to the
RSS Feed
.