6Nov2012
Filed under:
Books
Author: Jamie Nast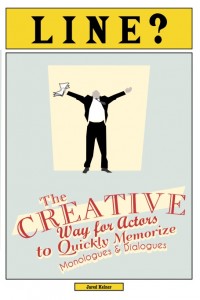 Jared's first introduction to peg memory systems was in one of my public Idea Mapping Workshops back in 2005. Since then he has written The Chamberlain Negotiation Principles and now his newest book for actors titled Line? The Creative Way for Actors to Quickly Memorize Monologues & Dialogues.
Jared has appeared professionally an stage and television. He attended The Fine Arts and Performing Arts Center High School and then studied the Meisner technique for two years at the Duality Playhouse in New York City. For more information about Jared see his website.
As an amateur actress and one who has studied the Meisner technique for 10 months, I have great respect for Jared's work. In this book he has combined his practical acting experience and his ability to teach memory skills. A must read for any actor who wants to improve their ability to memorize lines.
Bookmark us!
Copy HTML:
If you like this then please subscribe to the
RSS Feed
.