30Nov2012
Filed under:
idea mapping book
Author: Jamie Nast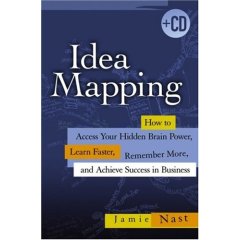 Due to the popularity and success of the Idea Mapping book, I am now responding to a request from my publisher (John Wiley & Sons) for a proposal to revise the original Idea Mapping book. I've now had over 6 years  since publication, thousands of readers, many new clients and enthusiasts and an even stronger network of mappers. I have lots of ideas for new material and portions of the book that could be dropped without harm, but it's more important that I hear from you.
If you have already read Idea Mapping, what would you like to see added, changed or dropped from the current version? If you are new to Idea Mapping or Mind Mapping tools, what is it that you would like to read about/learn?
Please share any input as I embark on another journey for this revised version.
Bookmark us!
Copy HTML:
If you like this then please subscribe to the
RSS Feed
.