12Sep2013
Filed under:
Idea Mapping Example
,
Mind Mapping Examples
Author: Jamie Nast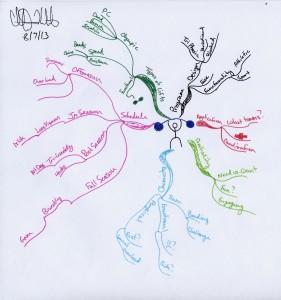 Chris Kordick is pre-med student at Benedictine University and a strength coach. He attended my 2-day Idea Mapping Workshop in Livonia, MI last month. During one of the workshop activities Chris created this map. Here's what Chris said:
"Utilizing the Idea Mapping or Mind Mapping ideology has made my job as a strength coach much easier. In about 15 minutes I was able to completely plan a year long weightlifting program for one of my athletic teams. Usually this process takes me about a month of work, but in minutes I was able to outline and visually see where the weaknesses were in my programs because they were interconnected on the map. Whether this skill is utilized for business or studies, it is a tool that opens new doors to productivity and performance."
Thanks for sharing Chris! For more about Chris and his Idea Mapping journey into Med School see the post from October 5, 2013 and August 12 2015.
Bookmark us!
Copy HTML:
If you like this then please subscribe to the
RSS Feed
.