16Dec2013
Filed under:
Books
Author: Jamie Nast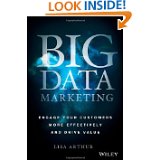 Big Data Marketing is a new book published by Wiley and authored by Lisa Arthur – CMO of Teradata Applications. I met Lisa when she was the CMO at Mindjet.
I have been trying to ready this book for about a month now. It has travelled with me to Poland, Dominican Republic and last week I finally started reading it on my flight to Palm Beach, FL. So far it is an excellent read and has given me a few ideas and also revealed some gaping holes in my marketing. I'll have a full report once I've finished the book. Congrats Lisa!
Bookmark us!
Copy HTML:
If you like this then please subscribe to the
RSS Feed
.