17Mar2014
Filed under:
Idea Mapping Example
,
Mind Mapping Examples
Author: Jamie Nast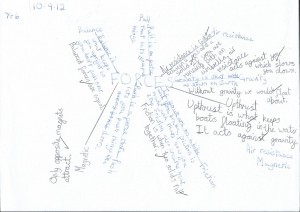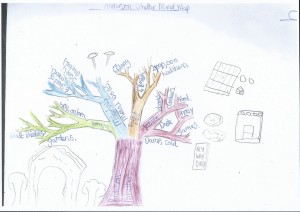 Meet Lindsey Cranfield. Lindsey teaches 9-11 year old pupils at Holy Trinity Primary School in West Sussex, UK.
I was introduced to Lindsey after teaching a 1-day Idea Mapping Workshop for PRA International's Annual Leadership Retreat in Orlando, FL in May 2013. One of the PRA executives from England returned home after the event to discover his 10-year old daughter Alice had been creating idea maps or mind maps thanks to this extraordinary teacher. (See Alice's map on William Shakespeare in my June 11, 2013 post.) He then introduced me to Lindsey.
I've been contributing monthly article to the Using Mind Maps Magazine. Lindsey is featured in the March 2014 edition in Part 3 of my series titled Impact Educators. You can read her full story there.
This first idea map from Jahan is an example of how a map was used as an assessment tool on the topic of Forces.
The second map was completed by a 9 year old in Lindsey's class last September 2013 on a first attempt. The class topic was World War Two and the children were learning about how people protected themselves from bombing.
Bookmark us!
Copy HTML:
If you like this then please subscribe to the
RSS Feed
.