Idea Mapping Workshop Flier – Livonia 2016.doc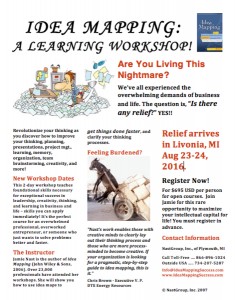 Idea Mapping is a powerful whole-brained visual thinking tool that enhances memory, note taking skills, thought organization, planning, and communication.  It uses color, keywords, lines, and images to connect thoughts associatively.  Idea Maps engage both sides of the brain resulting in the ability to see a picture of all the information on a single page and the relationships between data.  They are a non-linear expression of the way the mind naturally processes information.
To see some Idea Mapping examples click 7-Habits, College Students or search this blog on "Idea Mapping Examples." See full course abstract.
On August 23-24, 2016 I will be offering my first of only two public Idea Mapping Workshops for 2016. The first one will be held in Livonia, MI (beautiful Detroit suburb), and the second will be held in Palm Beach, FL in December 2016. Registration links to both of these events can be found at the Workshops link.
Since nearly all of my workshops are taught for corporations, this is a rare opportunity to be part of this learning experience. I look forward to meeting all who will be joining me for these public Idea Mapping Workshops this year.
P.S. The link to this flier is easier to read than the image imbedded into this post:)
Bookmark us!
Copy HTML:
If you like this then please subscribe to the
RSS Feed
.