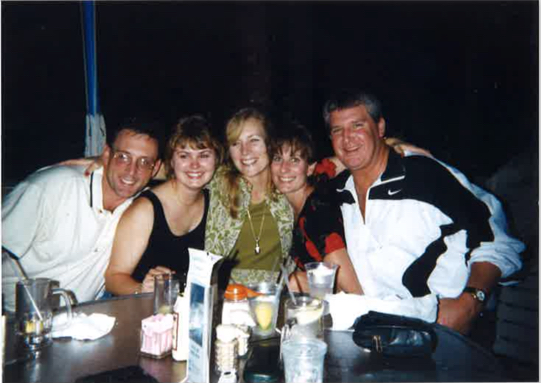 I was introduced to Mind Mapping through one of the first Mind Matters Workshops taught at EDS back in February of 1992. My fellow Leadership Development colleague (Randy Raines) was the instructor. I was so impacted by the class that I soon became an instructor for the course myself.
In June of that same year Randy and I headed to Whitby, Ontario to teach the 2-day Mind Matters Workshop at another EDS location. We enjoyed our usual dinner at Shrimp Cocktail  and had Debbie Showler in one of our workshops – who also became an instructor for the course later that year.
Dave Gunby was also one of the original EDS Mind Matters instructors and was based out of Plano, Texas. Dave started his own company in 1997 and is still teaching Idea Mapping among other things. Kim Cordes joined the instructor team from Lansing Michigan and later started her own company called Blooming Brains.
I ran across this old photo from probably 20+ years ago when the 5 of us were all able to be together for the first and only time in Palm Beach, FL. It brought back fond memories of our time together and also with Vanda North – our mentor.
Left to right: Dave Gunby, Debbie Showler, Kim Cordes, Jamie Nast, Randy Raines
Bookmark us!
Copy HTML:
If you like this then please subscribe to the
RSS Feed
.