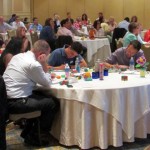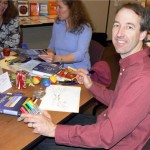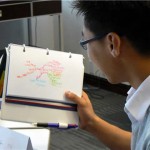 This course teaches foundational skills necessary for exceptional success in leadership, creativity, thinking, and learning in business and life. This workshop focuses on building your skills in these areas so that you can apply them immediately to your profession and life.
This is NOT a lecture-driven, PowerPoint, theory-filled, boring training class!
It is an exciting, activity-driven, skill-building, multi-sensory adventure in learning to use your brain more effectively and efficiently! You will experience significant improvement while learning skills that most adults believe to be difficult, if not impossible. Two of those skills are not discussed in the content of this abstract so that they are a surprise for you during the course! You will truly amaze yourself.
Creating idea maps is one of the central components of this workshop. This tool is based on Jamie Nast's book titled Idea Mapping: How to Access Your Hidden Brain Power, Learn Faster, Remember More, and Achieve Success in Business
(John Wiley & Sons 2006). Other topics covered include creativity, memory, and a model for learning. This learning model is then applied to learning all of the other skills offered in this course. You will also be introduced to Mindjet's MindManager software.
These two days are just the beginning of a learning journey that can continue for a lifetime! Get ready to revolutionize your thinking during this mind-expanding workshop!
OBJECTIVES - At the end of this workshop participants will be able to:
Create idea maps
 Think more clearly, creatively and efficiently
 Apply learning process theory to overcome mental blocks that  inhibit learning, and apply this model to learning several new skills
 Identify and implement personal and business applications of idea mapping and other skills learned during this workshop
WHAT IS IDEA MAPPING? - Idea mapping has a rich foundation in Mind Mapping®, and can be defined in this way:
"An idea map is a powerful visual thinking tool that enhances memory, note-taking skills, thought organization, planning, creativity and communication. It uses color, key words, lines and images to connect thoughts associatively. Idea Maps are the natural expression of the way the brain processes information associatively."
Idea mapping is a hybrid tool that combines the positives of the mind-mapping laws with the freedom to break them. The feedback from sceptical, overworked, linearly-trained business professionals has caused the creation of idea maps as the practical, flexible, and more usable version of mind maps. Once the rules and techniques of idea mapping are established and learned, you'll be breaking every one of them to make these maps apply to you in the most effect way possible. You will be the creator of the style and rules that work for you!

COURSE BENEFITS - You will improve your performance by improving your:
| | | |
| --- | --- | --- |
| Planning | Creativity | Learning and thinking capabilities |
| Productivity | Memory | Brainstorming |
| Note taking | Problem solving | Thought organization |
| Mental efficiency | Motivation | Ability to break through mental barriers |
| Communication | Concentration | Ability to learn new skills |
The tools you learn in this class will also save you time!
Idea maps enhance your ability to make connections synergistically among widely disparate events, ideas and information by providing a way to simultaneously see the "big picture" and the connections between ideas at the same time.
Here is the complete Idea Mapping Workshop Abstract.