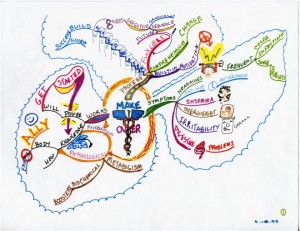 In the June 22, 2007 blog posting, I shared an idea map that had been created by a friend of mine from EDS who attended the Idea Mapping Workshop that at that time was called Mind Matters. I had lost track of her. In the June 26, 2007 posting, I shared how Janet and I miraculously reconnected and another one of her extraordinary maps. Today is the third map from Janet featured in this blog. It talks about a medical makeover.
Since the photo taken around 1995 on the June 26 posting, Janet has implemented that medical makeover to a degree that would inspire anyone. I'll include a link to her diary of photos and progress that led to her success a few years ago. You'll be astonished at the difference.
Bookmark us!
Copy HTML:
If you like this then please subscribe to the
RSS Feed
.