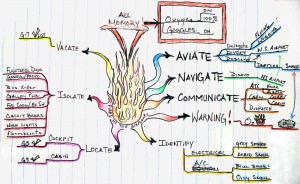 Meet airline pilot, Michael Panebianco. Michael created a map that we call "fires on the airplane map". He used this map as a visualization tool to study for emergency procedures pilots can face. It presents the big picture of dealing with one of the most dangerous situations in aviation. While existing checklists are linear, this map allows a visual flow of the factors at work in dealing with a fire inside the aircraft. Operating in three dimensions with multiple concerns for safety, a good, big picture presentation helps build a mental path towards simultaneous actions. Michael has other maps that he uses for other aircraft malfunctions with similar time and action concerns. I'll share those in subsequent postings.
Hint #14 involves using an idea to create a visual image that is committed to memory in order to visualize the whole.
Bookmark us!
Copy HTML:
If you like this then please subscribe to the
RSS Feed
.