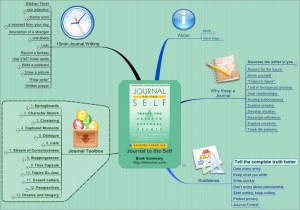 Welcome to the posting that celebrates the 100th idea mapping contribution. This is Luciano Passuello's 5th book summary that he has shared with us. (Search on "Luciano" in this blog to see his other 4 summaries.) As usual his maps can get very large so this is the folded version. This version as well as the FULL version can be found on my website in pdf format. They are in alphabetical order by map title. In this case look for "Journal to the Self."
Journal to the Self is written by Kathleen Adams.
Bookmark us!
Copy HTML:
If you like this then please subscribe to the
RSS Feed
.