10Sep2009
Filed under:
Idea Mapping Example
,
Project Management
Author: Jamie Nast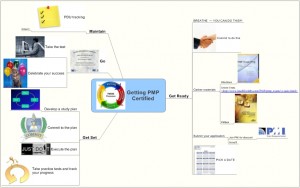 I've known Megan Clark since for over 11 years. She is the North American IT Program Manager for a large automotive company in southeastern Michigan. She contributed an Idea Map for my Idea Mapping Book, and has contributed other examples for this blog as well (most recently "Orbiting the Giant Hairball" book summary).
Today's example is an Idea Map she prepared for a meeting with John Shureb. He is working on a divestiture project as an Application Technical Architect/Project Manager and is responsible for all interfaces between two companies. He met with Megan to discuss the PMP examination and she provided some helpful hints on preparing for the PMP exam. During their conversation Megan use this Idea Map to explain the process she personally used to complete her preparation and finalization of the PMP work needed for her to obtain her certification. John is a visual learner, and told me that he appreciated the process flow that she presented in her Idea Map.
Bookmark us!
Copy HTML:
If you like this then please subscribe to the
RSS Feed
.