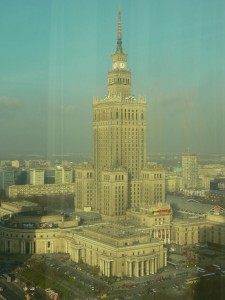 Last year I was invited to come to Warsaw, Poland in November of 2008 by Dr. Karol Olejniczak who is a professor at the  University of Warsaw. He runs a program called EUROREG — an Academy of Evaluation which is financed and sponsored by Polish Ministry of Regional Development.
2008 was the first year for this program, and each participant had to earn their spot. It ran 9 months and a group of 50 of Poland's most brilliant civil servants met for 2 days twice a month. As part of this program I taught a 6-hour workshop on Idea Mapping, learning and the MindManager software program.
When registration opened up this year it filled in 7 hours with candidates who are some of the top-ranking leaders in their ministries. For the 2009 class I will be teaching for the entire weekend November 6-7. This new group of 30 and those from last year are dedicated governmental employees who are part of a critical effort to rebuild Poland's infrastructure and to measure the success of those projects.
Bookmark us!
Copy HTML:
If you like this then please subscribe to the
RSS Feed
.