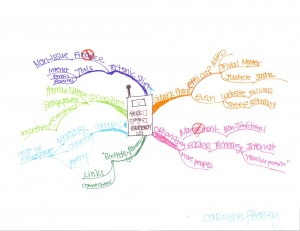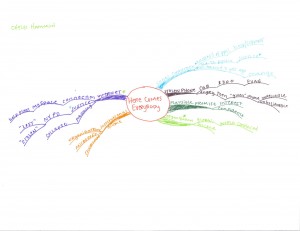 These Idea Maps are the 9th and 10th examples in this year's experiment following students at Luther College in Decorah, Iowa. The October 23, 2008 posting first introduced this series and the October 28, 2009 post put this experiment in context. Read those postings for background.
Today's idea mapping examples come from students Caroline Feeney (top) and Chelsi Hammon who provided their reflections on the book Here Comes Everybody (by Clay Shirky) in the form of an Idea Map.
Caroline' Initial Comments About Idea Mapping: "While I enjoy mind mapping and think it is a useful tool, I am still not at the point where it is more efficient than taking regular notes. I am going to to keep working on it though because I know that it will just take practice and in the end help me get ideas out on paper without blocking the creative flow. One thing I struggle with is neatness of the map, and I am always aiming to make it look perfect and pretty even though this is not the purpose."
Chelsi's Initial Comments: "Idea mapping was really easy for me to pick up because the format just made so much sense to me.  It reminded me of brainstorming in high school.  I find it really easy to follow the map once I have it done. I do struggle with keeping up with getting out all my thoughts at once.  I like to concentrate on one idea before I move on to the next. I also have trouble narrowing my ideas down to one word that explains it all. However, mind mapping is a very useful skill to have, and I have been using it to take notes for other classes."
Thank you ladies for sharing your insights!
P.S. For anyone who has taken the PMP (Project Management Professional) Exam or is remotely considering this, remember to take this short survey (less than 10 minutes) and enter to wins prizes!

Bookmark us!
Copy HTML:
If you like this then please subscribe to the
RSS Feed
.