17Nov2009
Filed under:
Surveys
Author: Jamie Nast
PMP or Project Management Professional is one of the most valued credentials in project management. The PMP credential assures organization that employees are committed to project management. According to a 2005 article I found on the PMI (Project Management Institute) website:
"PMI's PMP credential is considered by many as the "gold standard" of global project management certification. This credential, which is ISO 9001: 2000 compliant, connotes the holder as one who has demonstrated the knowledge, experience and leadership skills required to competently practice project management. During 2005, PMI has experienced an extraordinary increase in the number of practitioners taking the PMP examination, resulting in 86,925 PMPs being certified during this 12 month period…"
TAKE SURVEY (Less then 10 minutes)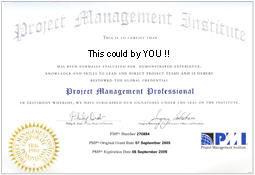 Whether you are considering the PMP certification, in the process, or have earned your PMP — your feedback is essential. Please participate in a short survey to assess your personal experiences and perceptions in the PMP certification process. The purpose of the survey is to identify areas of potential improvement for those aspiring to PMP certification.
10 random participants will receive $5 (USD) Amazon.com gift cards. 2 random participants will receive a signed copy of Jamie Nast's book, "Idea Mapping: How to Access Your Hidden Brain Power, Learn Faster, Remember More, and Achieve Success in Business".
Bookmark us!
Copy HTML:
If you like this then please subscribe to the
RSS Feed
.