Abraham Paniagua is from the Dominican Republic and today he shares his very first Idea Map. The Idea Map and his blog are both in Spanish, but he explains the map in English below: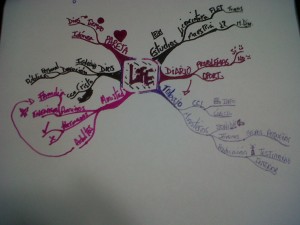 "First I thought about my life and everything that has to do with it. I thought of my Studies (1:00pm) which I'm currently doing a Bachelors degree in FLET college, and I'm studying Theology (that's why I put THEOS in Greek). But then I also want to do my Masters, but dunno in which place yet, but I wanna do it at Divinity.
Then I thought of friendships, at 7:00, which starts with all the adults I have in my life, including my family (that's why I made the relationship with the arrow). Then I thought of the brothers and sisters at my church, those GOOD brothers and those BAD brothers (or those who are not really close to me). But then I thought about friendship with ENEMIES and FAMILY.
3rd branch is WORK, at 5:00, which is a DAILY thing (branch at 3:00 is called "DAILY"). I work at CCL, a Christian school where I teach COMPUTER CLASSES and CIVICS (or ETHICS). But then I have the MINISTRIES of my church which are formed by the ministry of SOUND, the YOUTH GROUP, in SMALL GROUPS, and the PREACHING ministry which is done with my TESTIMONY and preaching in the TOWNS of my country.
4th branch is PARTNER or love life. It will be perfect for me, and I'll have it at the time of God (I'm currently single). 5th branch is GOD. I can serve him because of CHRIST and his death at the CROSS, which cleans all my SINS. But I also serve God through my PERSONAL DEVOTION and my PUBLIC DEVOTION to him. Which can be done inside the CHURCH, where I also serve him.
Last branch is the DAILY branch at 3:00. PROBLEMS appear DAILY, with or without solutions, but they still appear. When I find a soultion it makes me HAPPY, when I don't it makes me mad. And on a daily basis OPORTUNITIES appear, different kinds of opportunities.
First Idea Map, got some errors (2 words, instead of 1) and need more practice, but i LOVE IT, amazing…just amazing! can't wait to read the whole book and be a certified teacher in the future!"
Abraham – Nothing wrong with using more than one word per branch! Sometimes one word just isn't enough! Thanks a million for sharing your first Idea Map with us, and good luck on your studies.
Bookmark us!
Copy HTML:
If you like this then please subscribe to the
RSS Feed
.