10Feb2011
Filed under:
Messages from Jamie
,
Mindjet
Author: Jamie Nast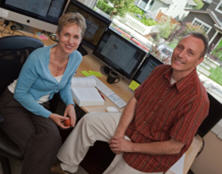 Mindjet Founders, Mike and Bettina Jetter, have created a new Web 2.0 Life Coaching application Coaching Sanctuary. Putting a technological twist on tradition, Coaching Sanctuary brings life coaching online through innovative design and interactive technology for coaches and end-users. It is designed for Life Coaches, their clients and YOU!
Coaching Sanctuary is like no other online space. It provides a safe place for its members to be inspired by a unique collection of personal growth tools: journal, vision board, community board, practice notebook, and personal tracking tools, as well as an incredibly motivating self-guided coaching program.
I have known Mike and Bettina since somewhere around 1998 and I can't think of two better people to lead a coaching community. To learn more about their journey you may want to read their book titled The Cancer Code.
You can also find Coaching Sanctuary on Facebook, LinkedIn and Twitter.
Bookmark us!
Copy HTML:
If you like this then please subscribe to the
RSS Feed
.