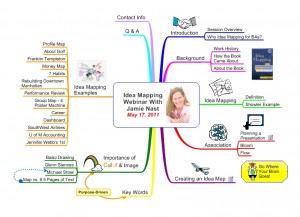 On May 17, 2011 I was honored to present an Idea Mapping webinar for IIBA (International Institute of Business Analysis).  I was invited to be a guest presenter because my Idea Mapping book is one of the best sellers in their library of recommended reading. For more information on IIBA please visit www.iiba.org. To view a similar webinar available to the public go to RMC Project Management.
The attached Idea Map is the overview of this webinar created in MindManager by Mindjet.
Bookmark us!
Copy HTML:
If you like this then please subscribe to the
RSS Feed
.