4Oct2011
Filed under:
Podcasts
Author: Jamie Nast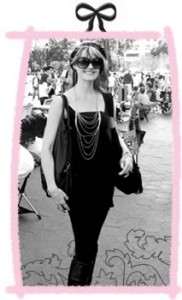 Kimberly Wilson is a teacher, writer, do-gooder, entrepreneur, and eco-fashion designer currently obsessed with paris, potbelly pigs, and all things sparkly. She is the creative director and founder of Tranquil Space – named among the top 25 yoga studios in the world by Travel + Leisure, author of Hip Tranquil Chick and Tranquilista, and holds a Master's in Women's Studies. Her work has been featured on Martha Stewart Living Radio and other media.
You can listen to this podcast at http://blog.kimberlywilson.com/2011/08/tranquility-du-jour-222-idea-mapping.html.
Bookmark us!
Copy HTML:
If you like this then please subscribe to the
RSS Feed
.